15November 2004
Verkehrswunder
SCMZZZZZZZ.jpg" alt="Sicherheit und Risiko in Fels und Eis" />
In den letzten beiden Tagen waren Kuala Lumpurs Strassen wie ausgestorben. Die Automassen, die sonst von frühmorgens bis spät nachts die Innenstadt verstopfen, waren verschwunden. Die geschäftige Hauptstadt war in eine Art Dornröschenschlaf gefallen. Ich fragte mich mit Pit Schuberts Worten (Pit Schubert, 2002, Sicherheit und Risiko in Fels und Eis)
Was war passiert?
Die Lösung lautet: Ende des Ramadhan ("Aidil Fitri)!! Der erste Tag des Monats Shawal, dem Folgemonat des Fastenmonats Ramadhan wird in Malaysia als "Hari Raya Puasa" gefeiert. Die Malaien verbringen diesen Festtag bei ihren Familien auf dem Land. Ein wahrer Exodus der Grostadtbevölkerung setzt nach dem morgendlichen Moscheenbesuch ein. Man spricht hier auch vom "balik-kampung" (zurück in die Dörfer)-Fieber. Nur so war es uns in den vergangenen beiden Tagen möglich, sonst brodelnde Hauptverkehrsadern mühelos zu überqueren.
Kuala Lumpur ohne MIV (motorisierter Individualverkehr) war ein Genuss! Denn während in den letzten Jahren viel Geld in den öffentlichen Transport floss
"KL's public transport system is changing from slow, chaotic and crowded to speedy, cohmfortable and uncomplicated" (LonelyPlanet 2004). Da musste ich doch gleich an

MICROBUS

denken
wurden Fußgängerübergänge sträflichst vernachlässigt. Kennt Ihr dieses Panikgefühl, nur weil ihr auf die andere Straßenseite wollt? Ich stehe am Straßenrand, das rechte Bein zuckt immer wieder, jetzt, JETZT werde ich es wagen die Straße zu überqueren, doch dann schießt wieder ein verrückter Mopedfahrer mit abartiger Geschwindigkeit auf mich zu, so dass ich schnell wieder zurückspringe. Beim nächsten Versuch, ist es ein scheppernder Bus, der mir den Schweiß auf die Stirn treibt. Erschwerend kommt der Linksverkehr hinzu. Nach einer knappen Woche riskiere ich mittlerweile nicht mehr mein Leben, nur weil ich denke ja super, da kommt ja keiner von links, dann mal los, bis mir die Hup-Orgie von rechts unmissverständlich klarmacht, dass ich gerade dabei bin, einen riesigen Fehler zu begehen.

Doch selbst unter Beachtung des Linksverkehrs kommen die verschiedensten Vehikel aus völlig unerwarteten Richtungen herangebraust, denn zu den Verkehrsregeln lässt sich sagen:
a)gibt es nicht,
b)die, die Gerüchte halber existieren, werden nicht eingehalten,
c)es ist alles erlaubt, und
d)der Stärkere gewinnt.
Mittlerweile habe ich mir angewöhnt, dann loszusprinten, wenn sich die Einheimischen in Bewegung setzen, hoffend, dass sie wirklich wissen was sie tun….

Tee-Zeremonie
Auf Entdeckungsreise durch die Stadt lohnt es sich immer das erste Donnergrollen wirklich ernst zu nehmen und nach einem überdachten Plätzchen Ausschau zu halten. Denn eins ist gewiss: der nächste Wolkenbruch folgt in Kürze.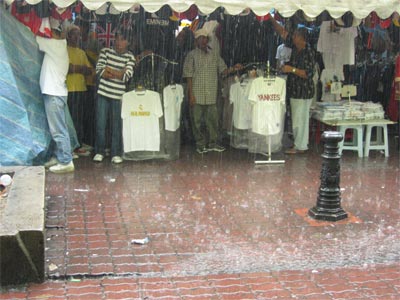 Wir standen gerade vor einem chinesischen Teeladen, als der Himmel seine Schleusen öffnete. Staunend betrachteten wir die vielen Teesorten, die sich in nett verzierten Dosen in den Regalen stapelten, als uns eine junge Chinesin mit den Worten
I show you how to make good tea
ansprach. Wir setzten mit uns mit ihr an ein kleines Tischchen und wurden in die Zeremonie des Teezubereitens eingeführt.
Zuerst wärmte sie die Teeschälchen und die Miniatur-Tonkanne mit heißem Wasser vor. Anschließend gab sie ein paar Kügelchen (zusammengerollte Blätter) grünen Yasmin-Tees in die Kanne und goss ihn mit heißem Wasser auf, wartete 15 Sekunden und erklärte uns englisch mit stark verfremdetem chinesischen Akzent, dass man den "firlt lun" (first run) niemals trinkt, sondern wegschüttet. Es folgte der zweite Aufguss, den wir zu kosten bekamen. Ich, als coffee-junky, fand den Tee recht fade. Doch mit dem dritten und vierten Aufguss intensivierte sich der Geschmack. 7-8 Aufgüsse sollen möglich sein! Als nächstes bereite sie uns einen Jun Shan Yin Zhen Tee zu, dann eine dritte Sorte mit unaussprechlichem Namen. Tee. Ich hatte die zweite Teesorte als erdig empfunden, doch das war gar nichts gegen die dritte Sorte, die mich von Geruch und Geschmack an modrige Waldblätter erinnerte. Baaaahh! Sie wartete geduldig, bis wir unser Schälchen leergetrunken hatten, bevor sie uns den nächsten Aufguss zu teil werden ließ. Es gab kein Entrinnen und ich macht mir langsam ernsthaft Sorgen, dass ich noch unzählige Schälchen dieses schrecklichen Tees trinken musste. Das freundlich offene Lächeln fiel mir zunehmend schwerer.
Ein Klassiker, den wahrscheinlich alle kennen, die mal durch fremde Länder gereist sind: man befindet sich in einer Situation, die man ganz schnell verlassen möchte, doch es will einem nichts einfallen, wie man dies auf eine freundliche Art und Weise erreichen kann. Also: noch ein Schälchen Tee….. bis ich mich durchrang thank you very much for this very interesting demonstration…. und sie uns mit der Erwartung, dass wir nun etwas kaufen würden, entließ. Ich schaffte es, ihr zu erklären, dass wir auf Reisen keinen Tee benötigen, aber gerne in zwei Monaten zurückkehren würden. Sie trug es mit Fassung und händigte uns noch Info-Brochuren zu chinesischem Tee aus, die wir eifrig einsteckten und eiligst den Laden verließen. Wie schön, es hatte aufgehört zu regnen!